I was an actress in a play Black is the Colour, which also was part of the Melbourne Fringe Festival. It's the first production by Deafferent Theatre and a two Deaf-women play and performed entirely in Auslan with English subtitles. An Australian play written by Daniel Keene, it is about friendship, with at times hazy boundaries, between two women. Director Jess Moody said "Relationships are forged and lost through language. Tonight I put the language of survivors, of the Deaf community, and of women on the stage." It was an extremely satisfying project to do as it gave me the opportunity to try out a new art-form (acting) working with people I have never worked with before and tackling complex themes such as domestic violence, loss, grief and memory especially seeing the statistics of Deaf survivors of domestic violence are alarmingly high.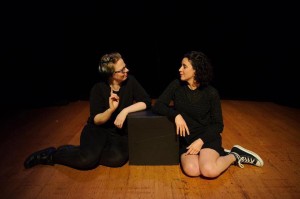 If you want to know more about Deafferent Theatre, you can visit their website:
Upcoming projects
I have two upcoming projects; dancing in a silent film directed by dancer/film-maker Jacob Edwards and a performance art project with Nicola Gunn. Nicola Gunn is a Melbourne-based performer, writer, director and dramaturg. This project, The Interpreters, will be performed in English, French, Auslan and Bunwurrung against the backdrop of a French Mansion in Melbourne. This is a work about the act of interpreting, about changing words into meaning and back again.
It has been a very enriching year and I feel so lucky (and exhausted!). I hope there will be more opportunities like Claire Cunningham's workshops as they are so important for artists at different stages in their career to do.
A big thanks to everyone 🙂
Anna