Since Claire Cunningham's workshops I have been VERY BUSY!
I have participated in workshops with Frantic Assembly at Restless Dance.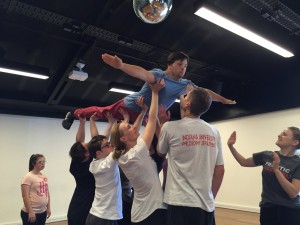 I attended the 2nd Catalyst Dance residency in Sydney last month, and am looking towards doing more work with some of the other Catalyst participants next year.
I am attaching the flyer for the Aboriginal masterclasses I've been doing.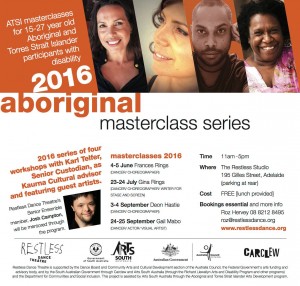 I also did a beautiful performance at Restless with one of the Aboriginal masterclasses I was part of, working with Dion Hastie.
I am being mentored and am assisting as a tutor for the masterclasses – there have been three so far and I have been mentored by Gina Rings, Francis Rings and Dion Hastie, with a final workshop coming up with Gail Mabo 24th/25th September.
photo:master class with Francis Rings
I am currently working on directing a piece for Restless Dance's Debut 5 series and my mentor is Gina Rings. The piece is called What Bird is That and is inspired by Australian birds in the bush.
I am also dancing in a piece that another member of Restless Dance is directing.
I am looking forward to the premiere of a film I acted in last year, Maurice's Symphony.
My dance film, The Landscape Diaries, is behind schedule, as the winter here has been unusually wet, and filming is outdoors. The film's producer, from Tutti Arts, is now overseas and will be back in October when work on this project will recommence.
Next week I am attending a three day workshop at Flinders University for ATSI actors.
Will keep you updated!