That's Enough (from Jess Curtis)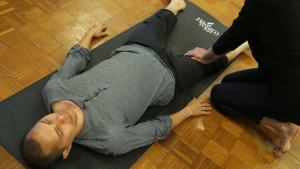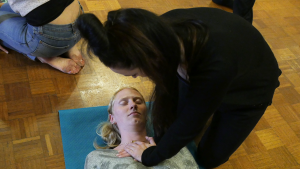 One partner lies on floor, the second partner applies weight to a single point of contact.. dropping weight vertically into the other body not pushing into it. Apply weight incredibly slowly, until the person on floor says "that's enough" – when they can tolerate that weight but don't want more. Learn to say it before it is too late. Avoid using hard language like "stop" that creates tension or fear of having done something wrong.
Intentions: to learn about another body, how it works, what weight it can take. What your projections are of that body (based on your assumptions or your associations in your own body). This is particularly important when working with non-normative bodies. To learn to take responsibility for your own body. To communicate with other dancers. To trust. To learn that we can talk to the people we work with, especially in dance.
Contact Improvisation intentions: To learn how to control giving weight. To learn how to give weight at a speed that the other person has time to read it, to stop it or adjust to it. To learn how to use your and the other persons skeleton to transfer weight through the bodies into the floor. To learn how your body is affected by weight being applied. Where it can/can't take weight.